TRFA 2021 Virtual Annual Meeting
From the comfort of your own office or home - on your computer or mobile device.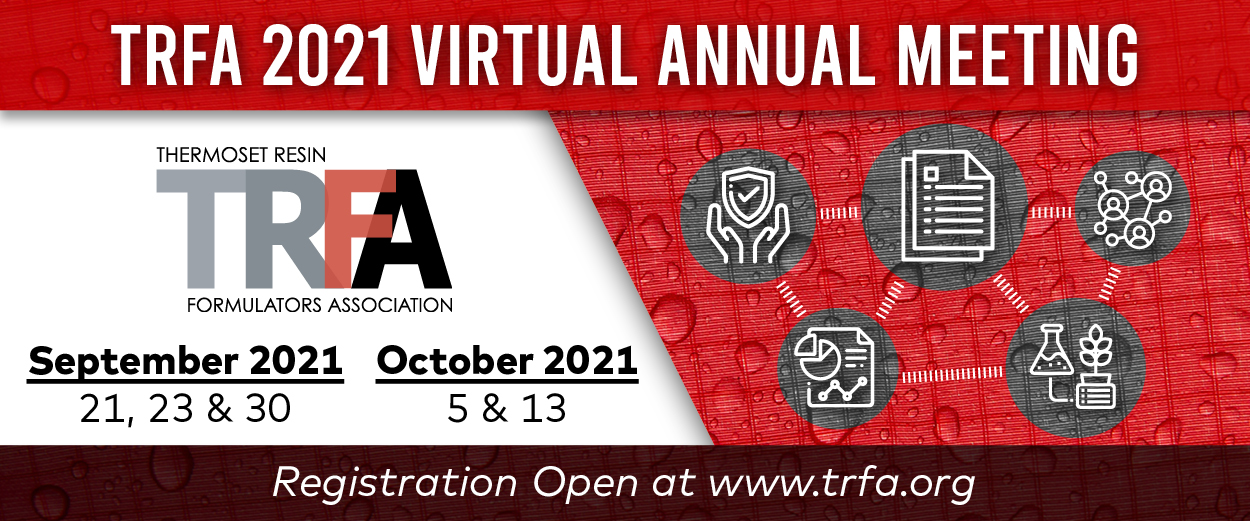 The TRFA Annual Meeting intends to be the premier forum in the thermoset industry to interact and exchange knowledge among formulators, distributors, and suppliers and it will focus on all innovative and timely topics relevant to the epoxy and other thermoset industry advancements, including their possible marketing impact and application for the end-user, will be considered from the market perspectives: Adhesives and Sealants, Coatings, Civil Engineering, Flooring, Composites and Tooling, and Potting, Encapsulation, Electrical.
LETTER OF INVITATION
On behalf of the TRFA Board of Directors and the 2021 Virtual Annual Meeting Planning Committee, we are delighted to invite you to the Thermoset Resin Formulators Association Virtual Annual Meeting Series, being held on September 21, 23 & 30, as well as October 5 & 13. This meeting series is dedicated to bringing you the latest information and research.
Due to many unknowns surrounding the ongoing spread of the coronavirus (COVID-19) and travel restrictions, the TRFA made the difficult decision to cancel the in-person 2021 Annual Meeting. While these events are incredibly important, they simply cannot take precedence over the health and well-being of our members or industry partners. While we are disappointed that we are unable to see you in-person, we look forward to providing you with an incredible and outstanding schedule of presentations, held over five different dates in September and October.
We look forward to welcoming you to the Virtual Annual Meeting Series - presentations you truly won't want to miss!
DATES AND TIME
There will be five different sessions, from 1:00PM-3:30PM EDT, over the course of five separate days. Please see the schedule for specific details.
Tuesday, September 21, 2021
Thursday, September 23, 2021
Thursday, September 30, 2021
Tuesday, October 5, 2021
Wednesday, October 13, 2021
ACCESS INFORMATION
Prior to each day of the 2021 Virtual Meeting Series, you will receive an email that includes the access information for the respective day. The Zoom platform will be used, with live streaming capabilities on YouTube. Please feel free to download Zoom to your computer or respective device, in advance of the 2021 Virtual Meeting Series. 
REGISTRATION FEES
TRFA Formulator, Distributor & Supplier Members: $149.00
TRFA Academic Members: $49.00
Student Attendees: $49.00
Non-Members: $249.00

Registration pricing is comprehensive for the entire Virtual Annual Meeting (September 21, 23 & 30; October 5 & 13). À la carte pricing is not available.

Refunds: Full meeting refunds may be obtained after the 2021 Virtual Annual Meeting, only if TRFA is notified of the cancellation before Tuesday, September 14, 2021.
SCHEDULE

ALL PRESENTATIONS ARE EASTERN DAYLIGHT TIME (EDT). Available Session Descriptions and Presenter Bios can be found by clicking on the schedule images below.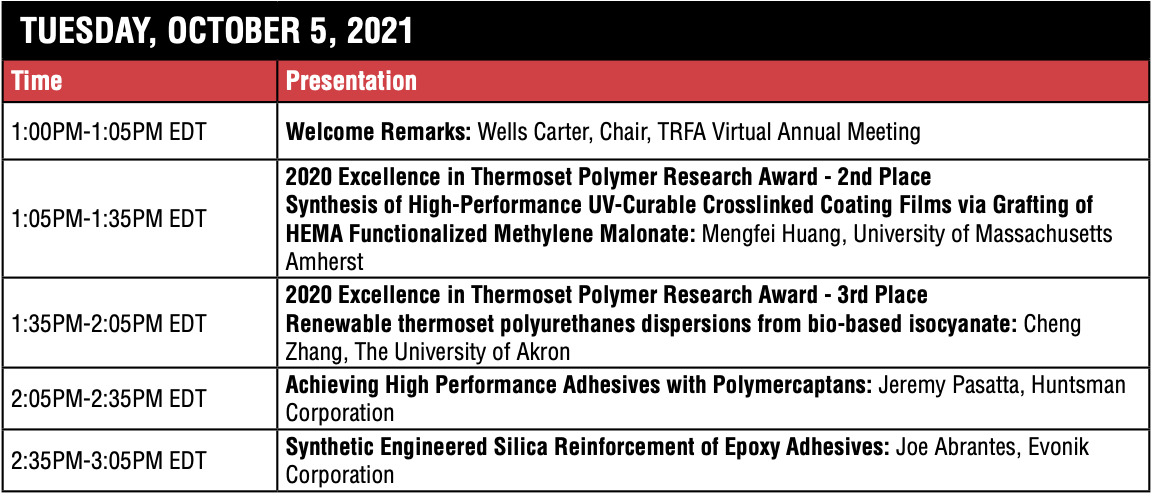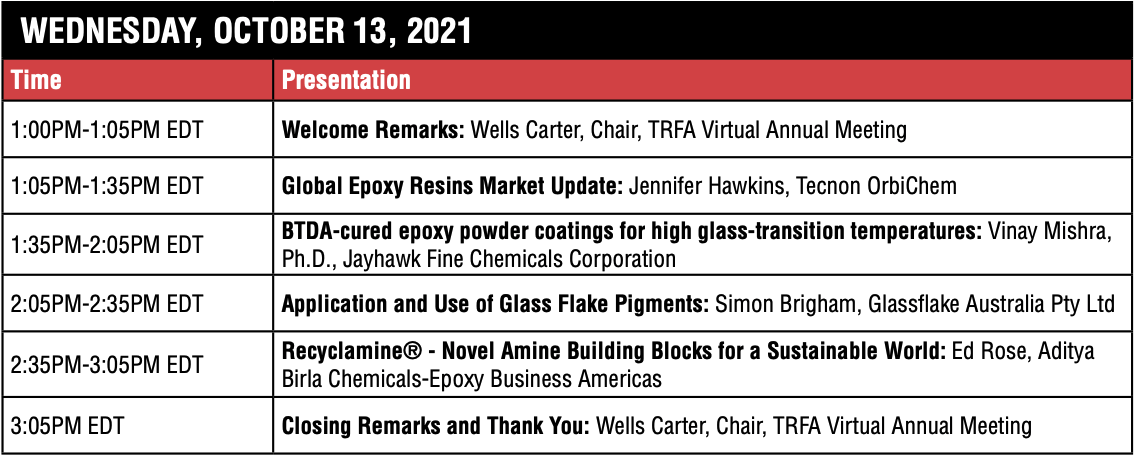 ---
 We look forward to seeing you for the TRFA 2022 Annual Meeting at the Fairmont Dallas from May 2-5, 2022!