TRFA Annual Meeting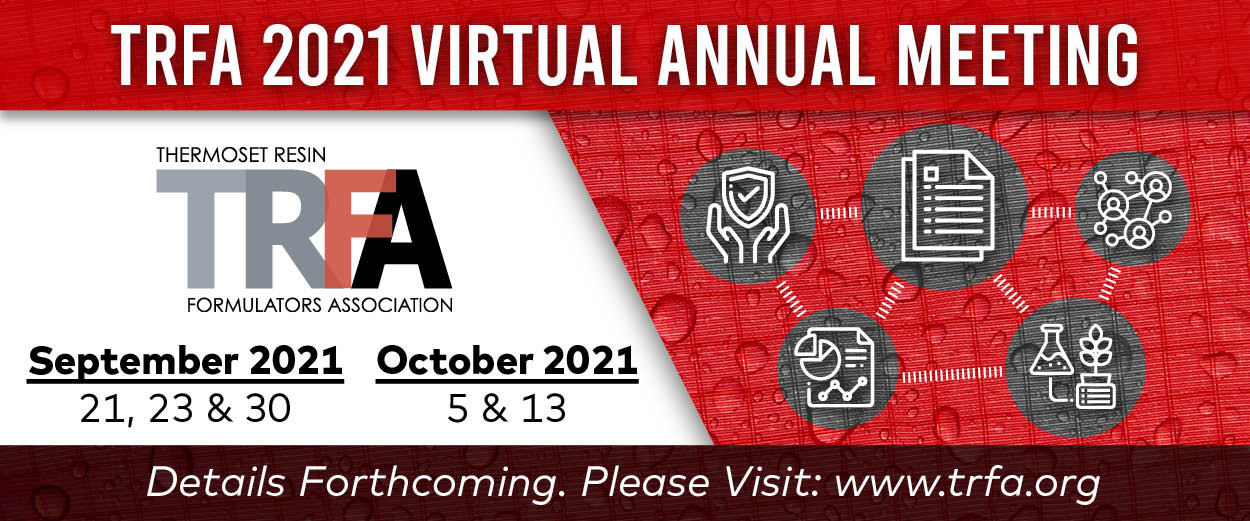 The TRFA Annual Meeting intends to be the premier forum in the thermoset industry to interact and exchange knowledge among formulators, distributors, and suppliers and it will focus on all innovative and timely topics relevant to the epoxy and other thermoset industry advancements, including their possible marketing impact and application for the end-user, will be considered from the market perspectives: Adhesives and Sealants, Coatings, Civil Engineering, Flooring, Composites and Tooling, and Potting, Encapsulation, Electrical.

Due to the fluidity of the COVID-19 pandemic, there will not be an in-person TRFA 2021 Annual Meeting. The TRFA leadership is currently in the planning phases of producing VIRTUAL Annual Meeting programming for 2021. As information becomes available, it will be posted here. 

Tentative Schedule:
There will be five sessions ranging from 2-2.5 hours in length over the course of five separate days:
Tuesday, September 21, 2021
Thursday, September 23, 2021
Thursday, September 30, 2021
Tuesday, October 5, 2021
Wednesday, October 13, 2021
Program Highlights:
Keynote Address by Dr. John C. Warner
Green Chemistry Roundtable Discussion
10 Confirmed Technical Papers
2020 Thermoset Polymer Research Award Presentations (1st, 2nd and 3rd Place Awardees)
---
 We look forward to seeing you for the TRFA 2022 Annual Meeting at the Fairmont Dallas from May 1-3, 2022!